This afternoon President Obama issued 23 Executive Orders in response to a series of mass murders which culminated in the death of 26 children and teachers at Sandy Hook Elementary School.
While individual orders can be debated, the President is right in saying, "protecting our children from harm shouldn't be a divisive one."
He is right in saying, "What we should be thinking about, is our responsibility to care for them, and shield them from harm and give them the tools they need to grow up, and do everything they are capable of doing…This is our first task as a society, keeping our children safe. This is how we will be judged."
I am willing to support the President in modifying current gun control laws in order to protect our children. My question: is he willing to work with me on changing our current abortion laws to protect our children.
Is he willing to protect this child, too?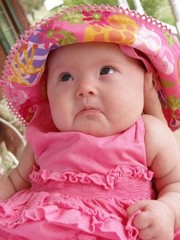 Our daughter Ella was born with Down syndrome. What makes her birth unique is not her diagnosis, but that a child with Down syndrome survived pregnancy. It is estimated that 95% of children diagnosed with Down syndrome will be aborted. Not only will they not live to see their first birthday, they will not even live to see their day of birth.
These abortions will not take place to protect the mother or because of the health of the child. They will take place because a child with Down syndrome is different than our expectations. They take place because abortion seems easier than adaptation and acceptance.
When I heard the President speak today, I sensed common ground. That ground is not often felt by a conservative, evangelical pastor and this President. It is easy to focus on disagreements and miss our common principles.
I saw commonality today. As Americans, as fathers, as men who desire to see the well-being of all children, the President used language I would use. He made a pro-life argument.
I wonder if we can use the same argument to protect thousands of children who are diagnosed with Down syndrome while in the first trimester of pregnancy. I wonder if we can find common ground in a "responsibility to care for them, and shield them from harm and give them the tools they need to grow up, and do everything they are capable of doing." I hope we can find common ground because, "This is our first task as a society, keeping our children safe. This is how we will be judged."
Want to hear my personal experience of raising a child with Down syndrome, watch this: