Community Bible Family,
On Monday, May 4, 2020, Governor Asa Hutchison released new guidelines regarding corporate gatherings for churches in the State of Arkansas. I write to give you an update on our plans over the coming weeks.
First, let me thank you for your faithfulness over the past two months. Eight weeks ago, we shut down all group gatherings and switched to online-only worship services and small group meetings. In these two months, you have loved your neighbors, adjusted to new technology, engaged in worship, and continued to financially support the church as we met needs around the River Valley. Thank you.
Second, allow me a moment to brag on my co-workers. Over these weeks, they have worked diligently to change how we do ministry even as what we are trying to accomplish has not changed. They have navigated technology and social distancing while still leading others in meaningful work. I'm grateful to work alongside this wonderful team.
Now let's talk about what is to come.
Our staff, led by Executive Pastor Richy Fisher, has been working with a team of health care providers to create a phased approach as we return to in-person gatherings. My encouragement to them is for us to walk back to normal—not run, but walk. They recommend that we take a measured approach as we return.
They have suggested a four-phase plan with several weeks taking place between each phase so we can evaluate cases to ensure what we are doing is not endangering those around us.
Four Phases
We began Phase 1 on Monday. During this phase, we will continue with online corporate worship. Staff may return to the office. Community Groups may resume meetings while still practicing social distancing.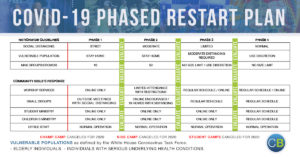 If we progress properly, we will enter Phase 2 near the end of May and will begin in-person corporate worship gatherings on May 31. These services will be limited in numbers so we can still maintain 6' between family groups. Fort Smith, Van Buren, and Greenwood will have services at 9:00 and 10:30. Before that Sunday, you will be requested to reserve the seats for the services you plan on attending. If demand is higher than capacity, we will add services. During Phase 2, we will not have children's ministry per the recommendations of the Governor's Task Force.
As things continue to progress, Phase 3 will see the return of on-campus group meetings such as Men's Lunch, Women's Bible Study, and CR corporate worship.
Finally, Phase 4 will see a return to normal activities, including Children's and Student Ministries.
Timetable
Of course, the question everyone is asking is how long all this will take. The answer is we do not know. We assume these phases will progress through the summer. If cases do not increase, we could return to normal operations sooner than expected. At the same time, if we do see an uptick in cases, we could return to phase one and have all activities back in an online-only format. Our staff and medical advisory board will be in communication throughout the summer.
We will watch closely the recommendations set forth by the Governor both for churches and for larger venues. For example, Arkansas is currently doing a 14-day gating period for each phase of re-opening. If cases continue to decline, the next set of recommendations will be released on May 18. It's possible at that time that the State could reduce its request for masks being worn inside of churches. Currently, they have requested we do so.
Volunteers
While we look forward to returning to in-person worship, it is going to take a considerable number of volunteers to provide a safe, clean, and welcoming environment at every location. At the same time, many of our volunteers will wisely choose to continue to worship at home for the first few phases because of underlying medical conditions or the need for extra caution because they care for those who are vulnerable. Additionally, some families will continue to worship at home because of the ages of their children and the absence of in-person children's ministry for some time.
So, if you do not have underlying health conditions, we could use your help. We need you to volunteer to become part of our Host Team so that in the months to come, we can welcome people back to the CB Campuses. We will have a volunteer training service on May 17 at 9:00 am.
Please email Stacey to sign-up or message us on social media.
What Comes Next
Join us on Sunday for corporate worship online.
Stay tuned to our communication, but make the best choice for you and your family in the weeks to come.
Look for more detailed information as we approach May 31, including how to reserve seats for the service of your choice, what expectations we will have of those who attend (i.e. masks), and everything you need to know to have a meaningful and safe worship experience.
As always, if we can ever be of assistance to you or your family, please let us know. It's an honor to be one of your pastors.