Early in our marriage, Jenny invited me to go shopping with her. It was the second Saturday of December and without any college football to watch, I agreed. In the years to follow, we would come to the joint conclusion that Jenny shops better alone, but we headed to Walmart in our youthful exuberance and ignorance expecting to have a fun day.
It was about 10 minutes into the experience that we realized it was a bad idea. I don't remember the exact details, but she was pushing through the crowds trying to get things done while I was wandering around trying to be entertained. When I reached for an item on the shelf, Jenny, exhausted by my jokes, told me to "Put that down" and I suddenly had flash backs of being eight and shopping with my mother. I spent the rest of our time writing these words (to the tune of the blues):
Well, I woke up on a typical Saturday in the fall

With no hopes but watching just a little football

When my wife turned to me and said, "Please won't you hun,

Come with me to Walmart, it'll be so much fun."

Now I am a sucker, this much is clearly true

Because I said, "Sure honey, I'll do what you want me to do."

It sounds so appealing, everything in one big store

From groceries to hosieries and a whole lot more

But nothing could be further from God's holy truth,

Than eight thousand people crammed under one big ol' roof.

I'm in Walmart hell, in more pain than I could tell

She's tellin' me where to stand, I no longer feel like a man.

I'm in Walmart hell, in more pain than I could tell

She asked if I would go, why didn't I just say "No."
Thankfully, Jenny found the song funny. Although to my knowledge she has never invited me to go shopping with her since then—for her yes, with her no.
Notice the Despair in People's Eyes
There is something I remember about that day.
When the shopping was over, I remember standing in line. Jenny was surveying the cart to make sure she had everything from her list. I was standing there when suddenly four words came to mind—"What do you see?"
They are great words. We should ask them more often.
I saw the people in our line. The woman pulling items out of her purse looking for one more coupon. I saw the cashier—weary from the never-ending line of customers. I looked behind me at the people resigned to having to stand like sardines waiting their turn.
For as far as I could see, I saw despair.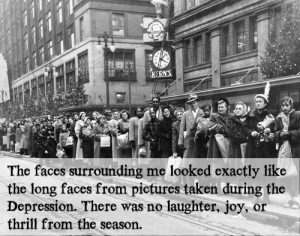 It was striking.
The faces surrounding me looked exactly like the long faces from pictures taken during the Depression. There was no laughter, joy, or thrill from the season. Everyone I saw looked like a prisoner, resigned to their fate. They looked oppressed.
The people looked enslaved.
They looked that way because they were. They are. We are. We have chosen to allow ourselves to be enslaved.
We live in an oppressed society, yet what makes it so unique is that we have chosen our own oppression.
We have enslaved ourselves in:
Debt
People-pleasing
Materialism
Nowhere is this more apparent than shopping in December. What is supposed to be a happy time, a joy-filled time as we purchase items to express our love, has become another demand, another oppression, another source of our discontent.
It's so obvious whenever we look at it, but no one takes the time to look. So we never notice.
But look.
Everywhere you go, look.
"What do you see?"
We are surrounded by unhappy people. People suffering in pain, loneliness, and sorrow.
A majority of people we interact with on a daily basis are oppressed. They are enslaved. It's different than those taken captive in war or from tyrants. It's an enslavement of our own choosing, yet it is an enslavement nonetheless.
Jesus Came to Liberate Us
One of the first ministry acts of Jesus was to go to the synagogue in Nazareth where he read from the scroll:
"The Spirit of the Lord is upon me,
Because he has anointed me
To proclaim good news to the poor.
He has sent me to proclaim liberty to the captives
And recovery of sight to the blind,
To set at liberty those who are oppressed,
To proclaim the year of the Lord's favor."
 After reading from the prophet Isaiah, Jesus rolled up the scroll and said:
 "Today this Scripture has been fulfilled in your hearing."
We Need Good News
This Good News is as needed today as it has ever been—the captives need freedom, the blind need to see, the oppressed need liberating.
The coming of Jesus is the beginning of the liberation. Jesus came to an oppressed people and he still makes himself available to an oppressed people. He has come to free us from our self-imposed bondage.
Oh, how strange it would be to live as liberated people in the midst of the oppressed. At no time should our liberation be more obvious than this season:
To be freed from the expectations of others
To give, not to earn the favor of others, but as a true expression of our love
To serve, not to get, but truly to assist
To possess a true, deep-soul joy
People wouldn't know what to do with us. They wouldn't know how to respond to us. Liberated people would be strange to the oppressed. Some would try to guilt us out of our freedom. Some would try to enslave us with guilt or expectations. But some would be drawn to the freedom, not fully understanding it, but being drawn to it because they are weary of their own oppression.
The birth of Jesus announces a new day. We no longer have to live as the rest. We are invited into a new way. We are given an invitation to freedom.