Thanks for taking the marriage quiz. No quiz is perfect and this one should not be seen as the ultimate description of your relationship. Yet these 10 questions can be very telling. A differing answer to even one question can provide a red flag to get your attention and greatly improve your marriage. Now that you've taken it, ask your spouse to take it, too.
1. Compare your scores and discuss if you think it's a fair representation of where your marriage currently is.
2. Review each question and determine what areas need some growth.
3. Where you gave a negative answer to a question, read the article below which corresponds to that question:
Question 1: Do you worry your marriage is headed in the wrong direction?
7 Intentional Steps for a Better Marriage Today
Question 2:  Is there a significant secret you haven't told your spouse? 
Secrets Kill: Choose a Life of Honesty
Question 3: Is there a mutual feeling of respect between you and your spouse? 
Respect–A Necessary Ingredient to a Healthy Marriage
Question 4: Are you able to clearly discuss your concerns and feelings?
Can you Tell Your Spouse the Truth?
Question 5: Is there a destructive behavior by you or your spouse which could destroy your relationship? 
The Easy Road to a Bad Marriage
Question 6: Do you feel there is an aspect of you or your spouse's life that you do not share? 
Secrets Kill–Choose Life Through Honesty
Question 7: Is there a significant issue to which you cannot find a workable solution? 
In Marriage Some Things Never Change
Question 8: Do you feel you and your spouse are growing apart? 
5 Ways to Prevent Your Marriage from Drifting
Question 9: Do you find yourself comparing your spouse to someone else? 
5 Signs Your Relationship Is Dying
Question 10: Do you lover your spouse more today than you did last year?
How to Stay in Love Until Death
Want to grow your marriage? Check out my new book, Friends, Partners & Lovers: What It Takes to Make Your Marriage Work, available at local bookstores and online retailers.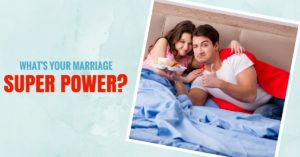 Like quizzes? Here's another quiz about your marriage super power.